Shaun White Pulls Out of Slopestyle Event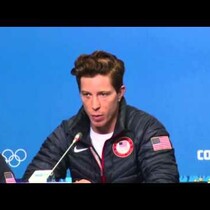 Posted February 6th, 2014 @ 12:02pm
Snowboarding superstar Shaun White announced Wednesday that he's pulling out of the slopestyle event at the Winter Games in Sochi, Russia.
White told NBC News, "After much deliberation with my team, I have made the decision to focus solely on trying to bring home the third straight gold medal in halfpipe for Team USA. The difficult decision to forego slopestyle is not one I take lightly, as I know how much effort everyone has put into holding the slopestyle event for the first time in Olympic history, a history I had planned on being a part of."
White has a minor wrist injury, but denies that's the reason why he dropped out the of slopestyle event, although he did say "there is some truth" to reports the course is dangerous. On Monday, another medal contender broke his collarbone on the course, and changes were made to it on Tuesday and Wednesday.
At a press conference on Wednesday, White downplayed his wrist injury, OC:...something serious. :18 [Courtesy of Reuters]
"I'm feeling healthy. I mean, I think it was blown out of proportion a little bit about my wrist the other day on the slope course. I definitely jammed it, but snowboarding you get bumps and bruises all the time -- it was ankle, it was the shoulder. It's all these things but they kind of come and go, which is nice. It wasn't something serious."